Conferring of Distinguished Fellowship on Rita Shah
We're here today to honour Rita Shah, a successful Indian entrepreneur whose company has become the byword for recycling in Ireland. Her story starts in Thika, a small industrial town in Kiambu County, Kenya, home to important historic sites like the Mugumo Gardens, where, legend has it, a seer prophesied the fall of British rule in Kenya. Born to parents Lalitaben and Mulchand Haria (originally of Mungni village in Jamnagar District of Gujarat, India), Rita is the eldest of three siblings.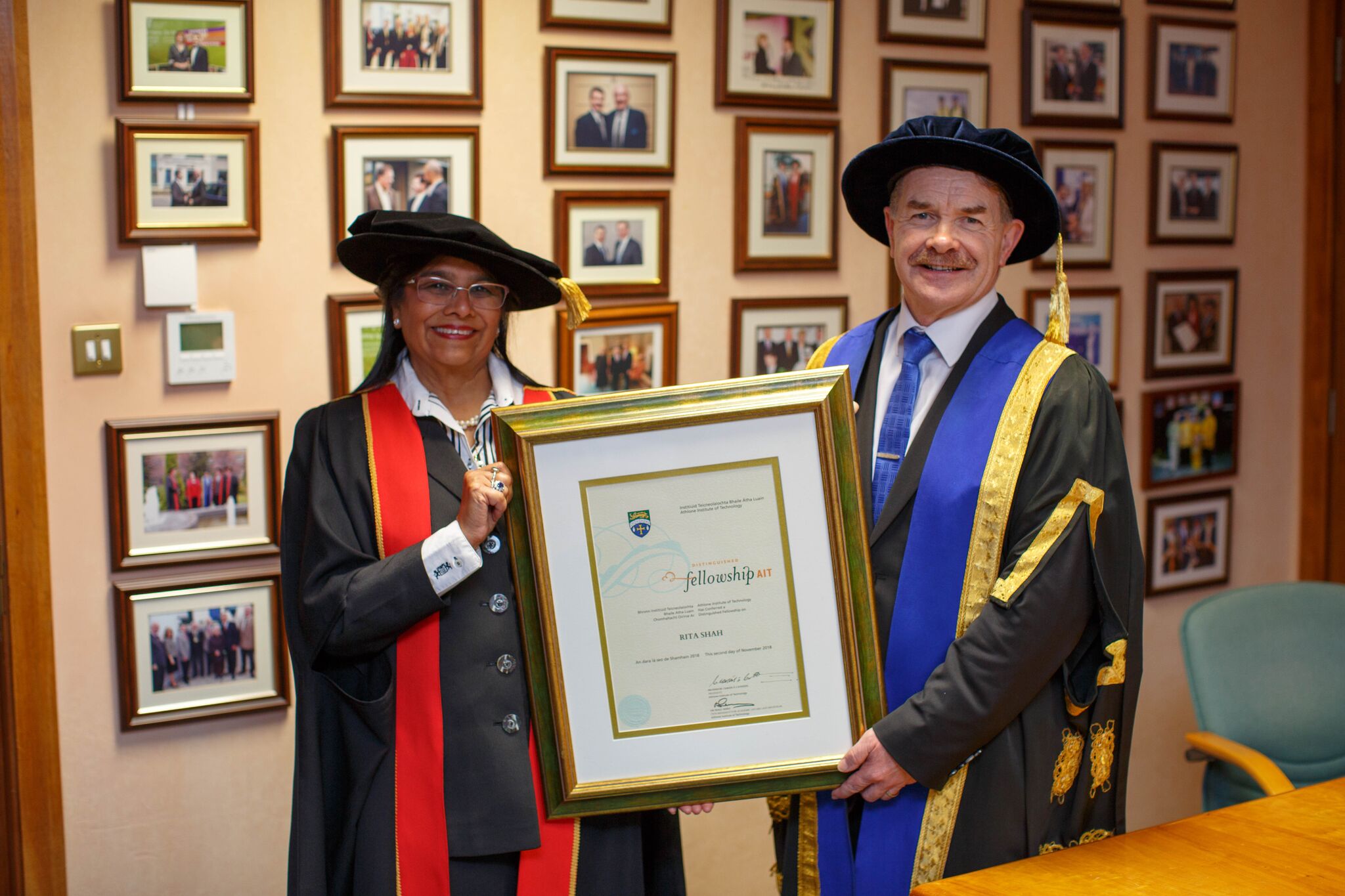 Her father, a successful and well-respected businessman in his own right, had interests in coffee, sisal-growing and hardware, and was enormously influential in Rita's own entrepreneurial journey. The core values he instilled in her as a young child-decency, honesty, respect and empathy for the less fortunate-have long stayed with Rita, permeating her personal and professional life. After completing her early education in her hometown of Thika, under the stewardship of the Irish Missionaries, her father, whose one wish was to see her succeed in business, sent Rita to England to advance her studies. This experience, though invaluable, was not without its challenges. For example, Rita obtained a Saturday job at Gatwick Airport, which necessitated her buttering hundreds of loaves of bread each and every weekend. This experience further instilled in Rita the importance of hard work, determination and the benefits of a can do, positive attitude.
Sometime later, as fate would have it, Rita met an Irishman by the name of Oliver Brady, who was, in many ways, a kindred spirit. Oliver, her father's one-time employee, became Rita's friend and mentor and helped her set up Shabra Group, an innovative plastic recycling company based in Co. Monaghan. The company, eponymously named after its co-founders, Shah and Brady, grew from strength to strength with Rita becoming known for her strong leadership capabilities. In the initial phases of setting up the company, Rita travelled to Ireland and spent ten days per month helping Oliver get the business off the ground. Over the years, the duo grew the company into one of the country's top recycler and manufacturer of bags and sacks with a focus on plastic film and plastic consumer bottles. Shabra, now a recycling powerhouse, is a company with a strong foundation in innovation and a firm eye on home and export markets. Through Shabra, Rita and Oliver have provided job security and peace of mind to its employees and their families, but their journey was not without hardship and financial peril.
When Oliver and Rita first started the business in 1986, their meagre possessions consisted of little more than a maroon briefcase, in which they carried their company accounts, and a transit van with Shabra plastics emblazoned on its side. Not having a proper office to work from, they made use of a phone in an old stable outside in a farmyard near Castleblayney. Rita would answer in her best 'official' voice, saying "Good morning, Shabra Plastics". The English aphorism 'fake it until you make it' comes to mind. This self-belief and determined attitude continued right throughout their early entrepreneurial journey. In those early days, Rita and Oliver forewent their wages and lived on nothing more than packets of crisps and sheer determination to succeed. As it turned out, Rita and her business partner would need all the fortitude they could muster. The introduction of the plastic bag levy in 2002 forced the business to scramble, losing a turnover of €2million overnight as clients stopped purchasing plastic bags. Desperate to ensure the survival of their plant and the livelihoods of the staff that depended upon it, Rita and Oliver did as all smart business people do-they pivoted. They worked tirelessly with their clients on packaging projects and decided to embrace recycling. Through a combination of backward and vertical integration, Shabra became involved in the recycling and re-processing of plastic waste film and post-consumer bottles and is now a leader in the Irish recycling space.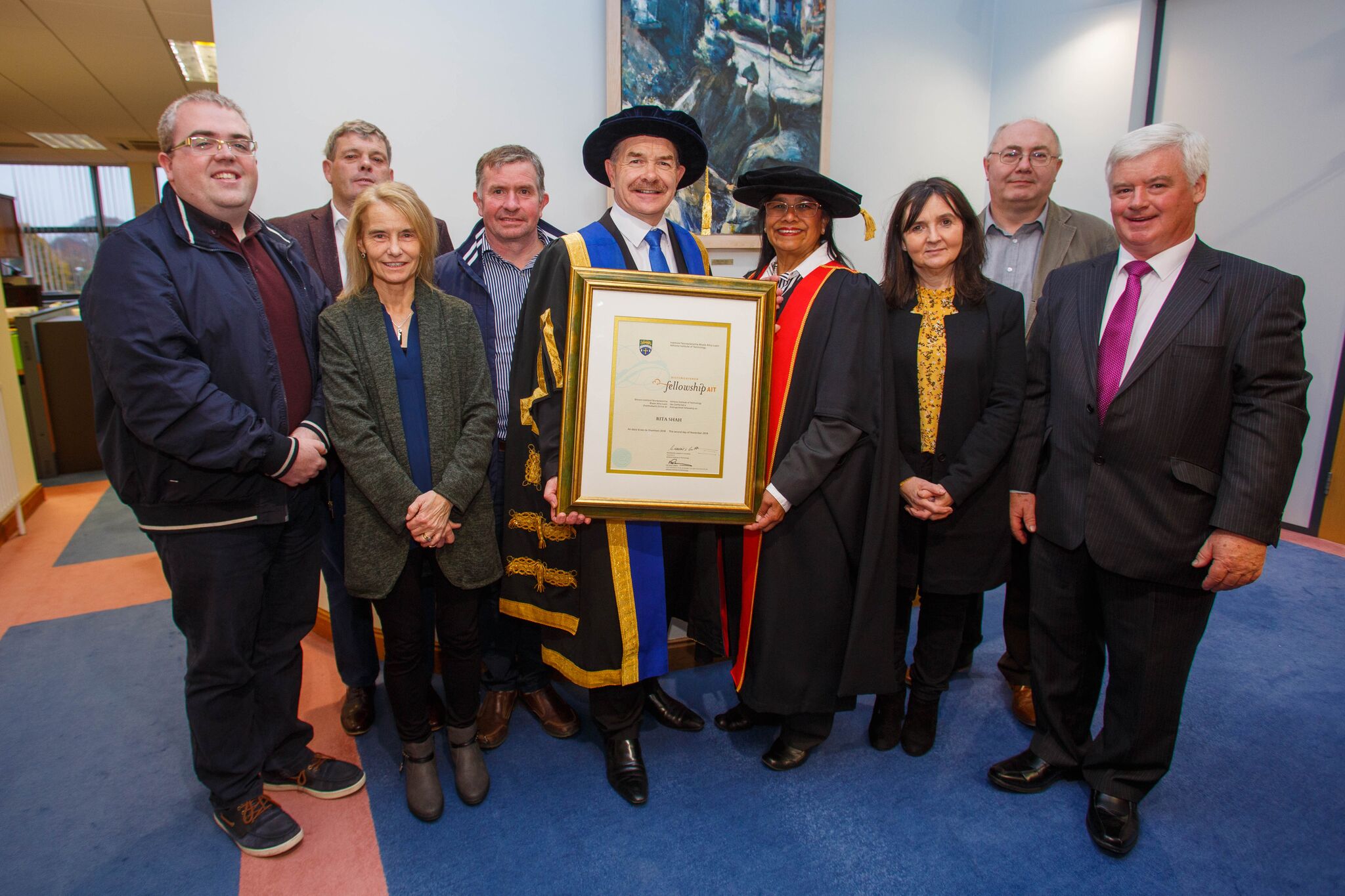 Shabra now reprocesses and recycles in excess of 10,000 tonnes of plastic each and every year. The company also manufacturers recycled bags and sacks from waste plastics collected from Ireland which would otherwise go to landfill. Shabra has individual clients in Ireland ranging from blue-chip companies to SMEs in a vast variety of sectors, including the food industry, waste management, local county councils, semi-state bodies, the HSE, and manufacturing, service, and airline industries. While Rita is, as one might imagine, incredibly proud of what Shabra has accomplished from a business perspective, her employees are where that pride is really routed. For Rita, Shabra's employees are the heart and soul of the company; the key stakeholders that emanate the company's values. She treats her staff as a genuine priority and as partners. For all its modernity and emphasis on innovation, there is something of the bygone age about Shabra. It is a company which styles itself as a family business, one that plays a major role in the social fabric of its local community.
Rita is somewhat a serial entrepreneur. She leads Shabra's recycling business, but she also employs more than 170 people at the Moyvalley Hotel and Golf Resort, manages an 'Urban Wellness' skincare brand and runs a hugely successful stable. Over the years, Rita has received many prestigious awards for her accomplishments in the business arena, including being named 'Entrepreneur of the Year', 'Business Woman of the Year', 'Monaghan Business Person of the Year', and 'Top 25 Powerful Woman in Ireland' the latter of which is her most recent accolade. Rita credits Oliver with much of this success and sees the accomplishments of Shabra as a testament to his mentorship and friendship.
Rita and Oliver shared a passion for a great many things, not least of which was horse racing, an arena in which Oliver enjoyed great success. They also shared a love for charity and their work, often unheralded and unpublicized, is a monument to their approach to people. Once on a golfing trip to her native Kenya, Rita and Oliver happened across several children studying under the shade of a tree with their pastor. Curious, the duo stopped the car only to discover there were no classroom facilities for the children to make use of. Greatly perturbed, Rita and Oliver decided action was needed and set about building the classroom under the auspices of the Shabra Charity. This classroom has since grown into a school and provides education and food to children in need throughout the region. Rita and Oliver later built a secondary school in Nigeria replete with dormitories to house the children at nighttime. This initiative has provided the educational scaffolding necessary to help these young people progress to third level education. These are just two examples of the extraordinary charity work, undertaken by these two extraordinary individuals and the Shabra Charity. Under Oliver and Rita's leadership, the charity has also donated significant sums of money to upgrade cancer and eye care facilities in Ireland, driven humanitarian projects across the African continent and funded research into deadly diseases.
In 2003, Oliver received news of a terminal diagnosis. His doctor informed him he had six months to live and, as his parish priest Father McCahey put it, he was "obviously given a few extensions on that particular loan for he confounded his doctors!". Philanthropic to his core, even in Oliver's final moments, he tried to improve the lives of those around him and, in doing so, 'harangued' the staff in the Mater Hospital into telling him what piece of equipment they most needed but were lacking. Hesitantly, the doctors and consultants confessed a world-class DNA sequencing suite would help save many lives but was prohibitively expensive. Oliver promised to donate this equipment through Shabra's charity foundation under the conditions that: A proper laboratory be built, professional staff were on hand to run the new equipment and the equipment be bought and paid for by Shabra.
Following Oliver's untimely death in 2014, Rita and the Shabra Charity, determined to honour Oliver's promise, have worked tirelessly to upgrade the facilities at the Mater Hospital and ensure that the much-needed equipment is purchased. With the backing of the Shabra Charity, the Mater Hospital opened its Genetic Sequencing Department in 2017. This flagship facility is a first for Ireland and has the capability to diagnose and treat patients before symptoms have progressed, mitigating the chance for negative outcomes. Previously these types of tests had to be sent abroad and could take anywhere between 18 months and 2 years to produce results. But, of course, as with everything Rita is involved with, the new facility is only the beginning. The fundraiser, which will amount to approximately 1 million euro, is expected to be completed by the end of this year. Through Rita and Shabra, Oliver's memory will live on as they continue to work to raise money for further upgrades for the Genetic Sequencing Department.
Rita prides herself on the care she is able to give to the global community, whether it be helping those less fortunate through the efforts of the Shabra Charity, protecting the environment through her company's recycling efforts, caring for horses in the Shabra Stables, or just caring for people on a holiday in the Moyvalley Hotel, She genuinely believes that care is a word that has no boundaries.
As literary luminary and Noble prizewinner, Seamus Heaney once said, life is a series of ripples extending outwards from an original centre. The ripples from Rita's actions have immeasurably improved the lives of people on two continents through the creation of educational opportunities, careers and bright futures with nothing more than her ingenuity, dedication and determination.
And with that said, it is my honour to welcome Rita Shah into the ranks of our distinguished fellows.